This is the ultimate and a step by step guide on how to create & print passport photos at home.
This guide includes step by step process on;
How to create passport photos online from home.

And, to print passport photos at home.
So, if you are someone who wants to create a passport photo or print passport photos at home, this guide is for you. So, let's dive right in.
Creating a passport photo has made simple with the help of makepassportphoto.com. Which will save a lot of time and money for you. 
Here is the step by step process on how to create a perfect passport photo by using makepassportphoto.com.
Step 1- Visit makepassportphoto.com
The first step in creating your passport photo is to visit makepassportphoto.com and upload the photo which meets all the standard rules for a passport photo such as posing, background and expression.
Step 2- Select photo type
Select the photo-type that you want. There are different types of passport photos for different countries, each having various size dimensions to comply with their requirements selecting the photo-type is a must, in creating your passport photo more accurately.
Step 3- Select paper size
In this step, you are going to select the paper in which you want your photo to get printed. 
If you want a single softcopy for online application, then you can select "Individual/single photo" option.
In case, If you are going to print it yourself, then check for the size of the photo paper that you have and select the same here.
Alternatively, if you want to print it through drug stores or Walmart or other photo services, you can explore them first for their supported photo paper sizes and enter the paper of your choice here. Eg. 6×4, A4, A5, etc.
Note: By selecting a larger paper, you can get more passport photos copies in a single print.
Now, upload the photo that you have taken for creating the passport photo (upload an image of good quality).
But before uploading the photo, make sure to follow the rules and requirements set by the government when taking the passport photo.
Step 5- Crop the uploaded image properly
In this step, you have to crop the photo as per the requirement focusing face as the centre.
As you crop, you'll see a live representation of the cropped photo on the right which you'll download.
Step 6- Download the photo
Once you've finished editing, you can download the passport photo from the site by clicking the download button, and it starts downloading.
Before taking the print, Make sure that the downloaded image complies with the passport photo guidelines.
After confirming the guidelines, you can print passport photo from home or printing it from other online photo printing services.
Print passport photos at home
In this process, you'll need a color printer for printing the photo and follow these steps to make the perfect sized passport photo.
Select the downloaded image you want to print passport photos and choose print option by right clicking the image.
Now, Select the printer, orientation, paper size, as well as the photo size (Note: Select the same photo size as selected when creating the photo) and proceed for printing.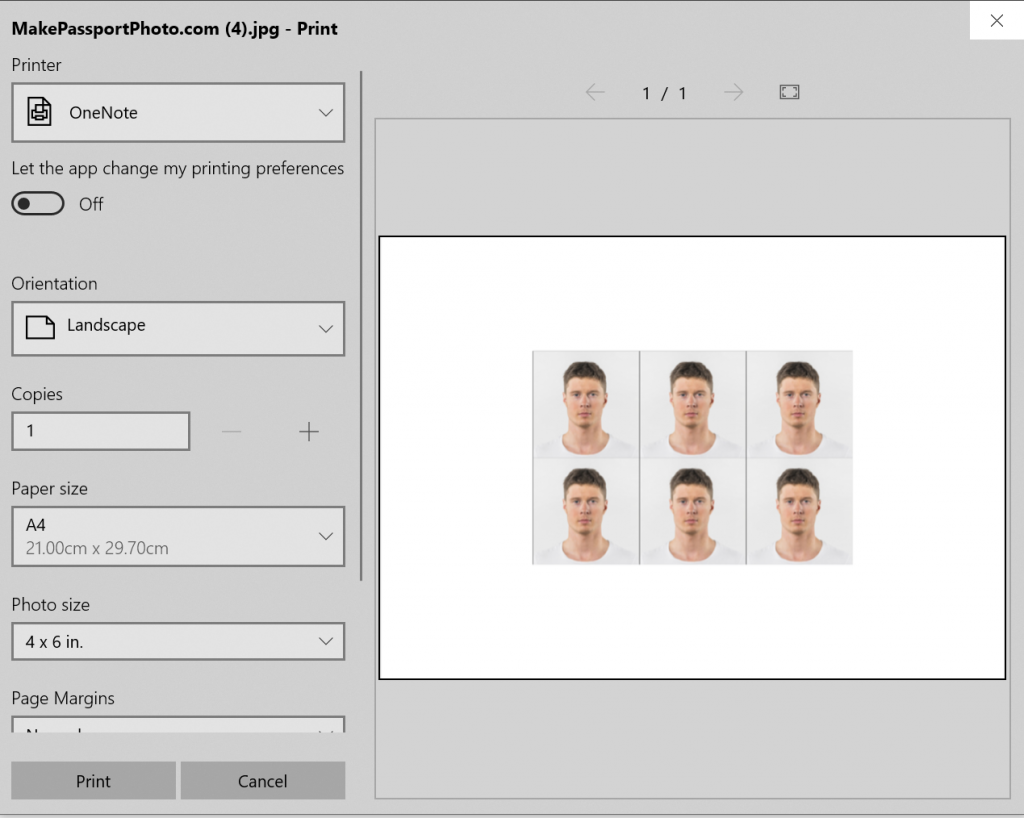 Pro Tip: For a glossy photo print, use any paper with a glossy texture available on stores for printing. In case, you want a matte print, then use any paper of same size as per the downloaded photo size with a matte texture for printing.
Print passport photos from online photo printing services
In case, you don't have a printer in your home you can always rely on our printing services. We provide passport photo printing services globally and your print gets delivered to your home within 2 business days despite the location of delivery.
So, that's how you can easily create and print passport photos from home.
Now, we want to turn over to you: Does this guide helpful to print passport photos from home?
If you have any questions, then please leave a comment below.
In the meantime good luck on printing passport photos from your home.