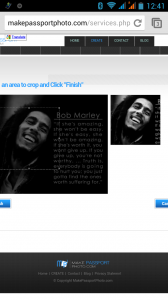 Now with the updated MakePassportPhoto.com you can create passport photos and other required ID photos from your Smart Devices, these include smartphones and tablets of Android, Windows phone, and iOS.
This means you can use your iPad, iPhone, HTC or Samsung or other latest smartphones and tablets to use MakePassportPhoto.com. The flexibility allows you to create the passport photo from your mobile and get it printed using your mobile device itself,
Cheers! and keep saving money, don't let those cheating Photo studios take your money for nothing!